I just wanted to send you a quick update from our HBCU tour.
Yesterday, we took over classrooms at North Carolina A&T State University in Greensboro! Professors gave us the floor to talk to their students about the importance of this year's elections. We also helped them to mobilize their communities to vote too, using their phones and tapping into their personal networks.
Take a look at the photos below from our North Carolina A&T classroom takeover, and donate so that we can keep on mobilizing and empowering Black students!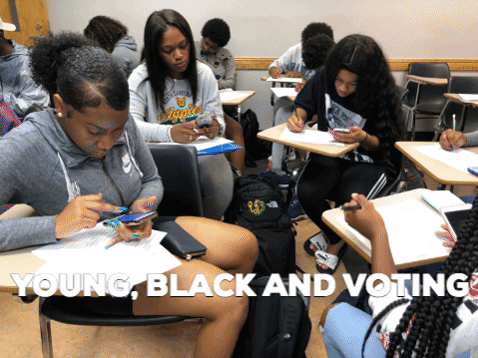 We only have 26 days until Election Day. Check out more details about our HBCU tour below.
Until justice is real,
–Jenni and the Color Of Change PAC team
---
———- Forwarded message ———-
From: Jennifer Edwards, Color Of Change PAC
Date: Saturday, October 6, 2018
Subject: How we're getting young Black people to the polls.
Dear Richard,
We've heard it over and over: young people don't vote. But from SNCC and the 1961 Freedom Riders to the streets of Ferguson and the Black Lives Matter movement, young Black people have always brought fire, momentum and ambition to the fight for racial justice.
I believe that young Black people will bring this same passion the polls– but we have to show them that there are candidates who share their values, and who are willing to hear them too. That's why, in the final 26 days before November 6, Color Of Change PAC is going on a whirlwind tour at Historically Black Colleges and Universities (HBCU) to mobilize Black students in these crucial midterm elections!
We're investing in Black students because they are the ones who will inherit this country, and their voices deserve to be heard. Will you donate $4 to make sure we can inspire hundreds of young Black people to step into their political power before Election Day?
Our HBCU tour began last weekend at Florida A&M University in Tallahassee. Over 100 students packed into the room for brunch on a Friday morning. After students repped the school chant ("I represent Florida Agricultural and Mechanical University, October 3rd, 1887 WHAT!"), our organizers Clarice and Dominique took the mic to talk about how important young people are for the upcoming Florida elections. Soon enough, we had the whole room using our digital tools to send text messages to thousands of Black voters in Florida, making sure they were informed and ready to vote next month.
Here are some things the students we met had to say about voting and the upcoming elections:
"At one point, we weren't even able to go NEAR the polls. So now that we have a voice, we need to use our voices!" -Ariyon Dailey
"It's time to make our voice heard so we can get what we deserve from the community and what we deserve from the government" -Romario Bailey
"Our ancestors literally fought for our rights. They marched, they bled, they were hung. For us to not actually use our voice and vote is disrespectful to them. We should be respectful to those who paved the way for us to get where we can be today." -Andy Jean-Baptiste
Click to donate $4 to help us bring our events to other campuses and inspire more Black students in the last 26 days before the election– and while you're at it, watch the full video of these students talking about why the elections are important to them!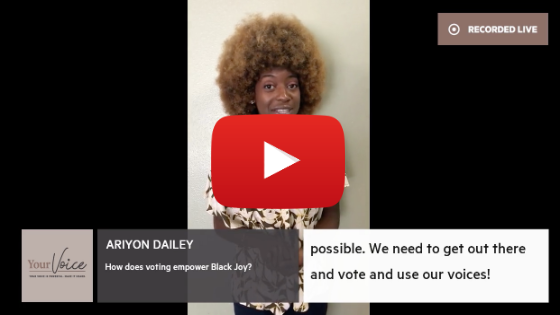 These students are proud of their history and excited to pay respect to the legacy of those who fought for their right to vote. At our event at Florida A&M, we created a space for them to spread this passion to their peers, and to voters all across Florida. I'm so inspired to be building spaces where Black students can think deeply about why exercising their right to vote is crucial, and then take action to mobilize others.
If you're inspired by this work, donate $4 now to create more of our HBCU events to build political consciousness and power among young Black people to bring them out to the polls!
We're focusing on HBCUs because we believe deeply that Black students are the future, not only within Black communities but throughout America. But we have some work to do when it comes to getting young Black voters out to the polls. Black student turnout dropped from 14.5% to 12.7% between 2012 and 2016, according to a Tufts University study.1
But 2018 already has momentum for the Black student vote: young voter turnout in many key states was already higher this year than in 2014, and young people overwhelmingly vote for progressive candidates.2,3
Our HBCU tour is a huge opportunity to seize this momentum and turn it into a wave of young Black students marching to the polls on November 6. Besides Florida A&M, we'll be visiting:
Bethune Cookman University in Daytona Beach, FL
North Carolina A&T University in Greensboro, NC
Fayetteville State University in Fayetteville, NC
Seeing the room of young Black people at Florida A&M last weekend gave me hope that, if we keep up this work, we can mold a new generation of leaders who will truly transform this country for Black people, in ways I can't even imagine. Invest in Black futures. Invest $4 to keep our HBCU tour going!
Until justice is real,
–Jenni, Arisha, Hope, Kwesi, Shannon, Victoria, Alicia P, Bhavik, Sonya, Alicia W, Reagan, Daniel, Bradley, Charles, Scott and the Color Of Change PAC team
P.S. Election Day is a month away! Are you registered to vote? Are your family and friends? If not, text VOTE to 225568 to use our voter registration tool, and ask your friends and family to do the same! (Message and data rates may apply)
---